The Home of Luxury Orthopaedic Dog Beds
George Barclay is synonymous with beautifully designed, high end,
luxury orthopaedic dog beds
in a range of different styles such as
dog sofa beds
,
luxury walled dog beds
,
dog mattresses
and
dog pillow beds
, as well as a comprehensive range of pet specific
accessories
. Our luxury orthopaedic dog beds are designed in the heart of Wiltshire, UK, using handpicked upholstery fabrics and materials sourced from across the globe. These attributes ensure our beds are truly unique, designed to suit your dog's individual needs.
What size do I need?Try our Dog Bed Selector!
To help find the correct size, and style of orthopaedic,
memory foam dog bed
for your dog, please use our dog bed selector below:
1. What size is your dog?
We have soft walled 'Box Beds' to suit your dog's size.
View Dog Beds
We have soft walled 'Box Beds' to suit your dog's size.
View Dog Beds
2. What style of bed would you like?
2. What style of bed would you like?
2. What style of bed would you like?
We have mattress style beds to suit your dog's size.
View Dog Beds
Trending Products
See our products that are Top Dog!
Choosing Your Dog's New Bed
George Barclay dog bed's - the definition of comfort
Our dog bedding collection is not only elegant and luxurious, it's also highly functional, with a range of innovative technology built into each bed, to aid your dog's wellbeing. Customers are able to select the cushioning for their dog's bed. They can choose either an orthopaedic, blended memory foam particles filling or a memory topper mattress, to provide the correct comfort and support for their faithful companion.
All George Barclay dog beds include a water-resistant inner lining, which is fully equipped with Moisture ShieldTM Technology, this helps protect the bed's cushioning from ingress of moisture. Our team developed the Moisture ShieldTM Technology specifically for use with dog bedding, with a flexible membrane, providing superior performance, combined with minimal noise, so as to not disturb your dog. The same inner liners will also prevent dust, dirt and smells from penetrating the beds cushioning, helping the inner components stay cleaner for longer.
To find out more about the functional attributes included with all George Barclay luxury dog beds click through to our
Our technology
page. Alternatively, If you'd like to get in touch with a member of our team, please call us on:
01722 712203
.
We have more than 20 years' experience designing and manufacturing luxury pet bedding, allowing us to perfect our craft, and provide our customers and their dearly loved pets with dog beds that are supportive, comforting and long-lasting.
Our Blog Posts
Find out what we have been doing over the past few weeks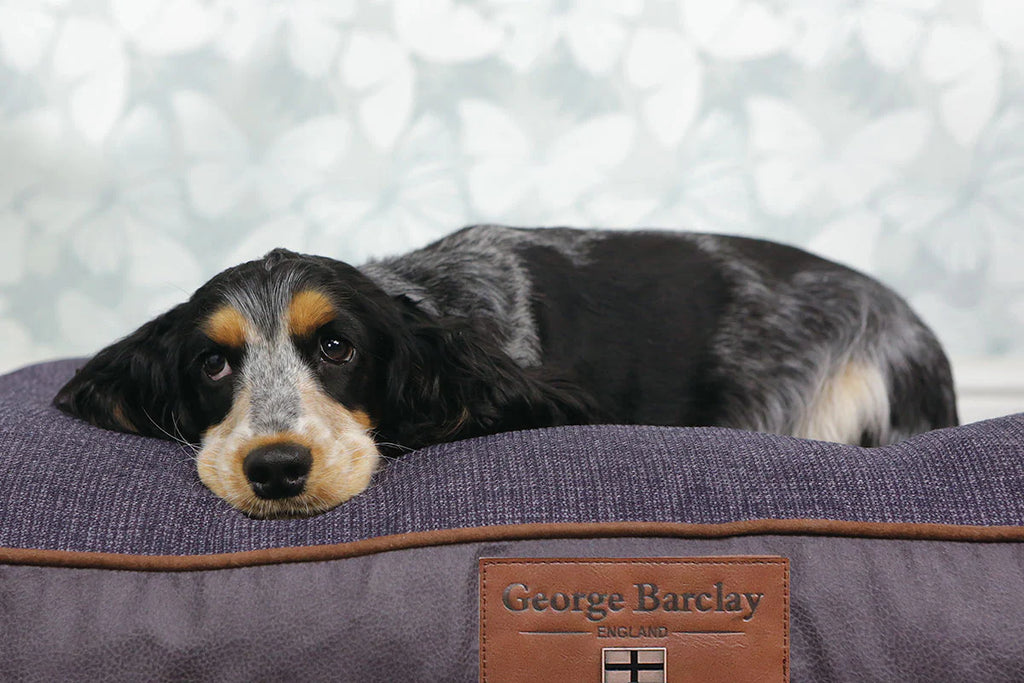 /
In this article we take a look at dog sleeping behaviours, why they exhibit...
From sofa beds to luxury dog pillows, we have everything for the discerning dog
After a long, strenuous day there's nothing better than being able to wind down and relax in the comfort of your own home. At George Barclay we want your dog to enjoy the same luxury. Our extensive range of high-end,
luxury orthopaedic dog beds
and sofa beds are practical, durable but most importantly, exceedingly comfortable.
We understand that your dog is unique, with their own, individual needs. Our comprehensive collection of luxury orthopaedic dog beds includes mattresses, soft-walled box beds, sofa beds and pillow beds. These dog and pet beds are available in a range of sizes, cushioning options and colours for you to choose from, to create the ultimate indulgence for your faithful companion.
Quality products made from the finest materials
Choose from contemporary and classic designs at George Barclay. All of our products are made from quality fabrics and the finest materials. Our range of luxury mattresses, sofa beds, soft-walled beds and pillow beds are some of the best on market, so you can ensure your dog benefits from maximum comfort. These beds are produced with top grade blended memory foam particles, with excellent cushioning and resistance characteristics, to assure your dog of a restful night's sleep. For older dogs, our memory topper mattresses provide a firm, stable base, combined with the comfort of a memory topper, to minimise your dog's pressure points.
All of our products are designed and hand crafted with your beloved pets in mind. Our team understands that every dog is unique which is why all of our luxury dog beds and accessories are bespoke to your dog and their needs. This includes size, age, mobility and much more. If you would like some advice on which bed would be perfect for your dog please let us know today and we will help you pick the perfect dog bed for you and your pooch.
100% Customer Satisfaction
We are committed to having 100% customer satisfaction by providing outstanding customer service and a pleasant shopping experience to all our UK and global customers. For any enquiries, please contact us on
01722 712203
or alternatively you can send an email to customerservice@georgebarclay.com and we will aim to reply to you as soon as possible.