< Previous Page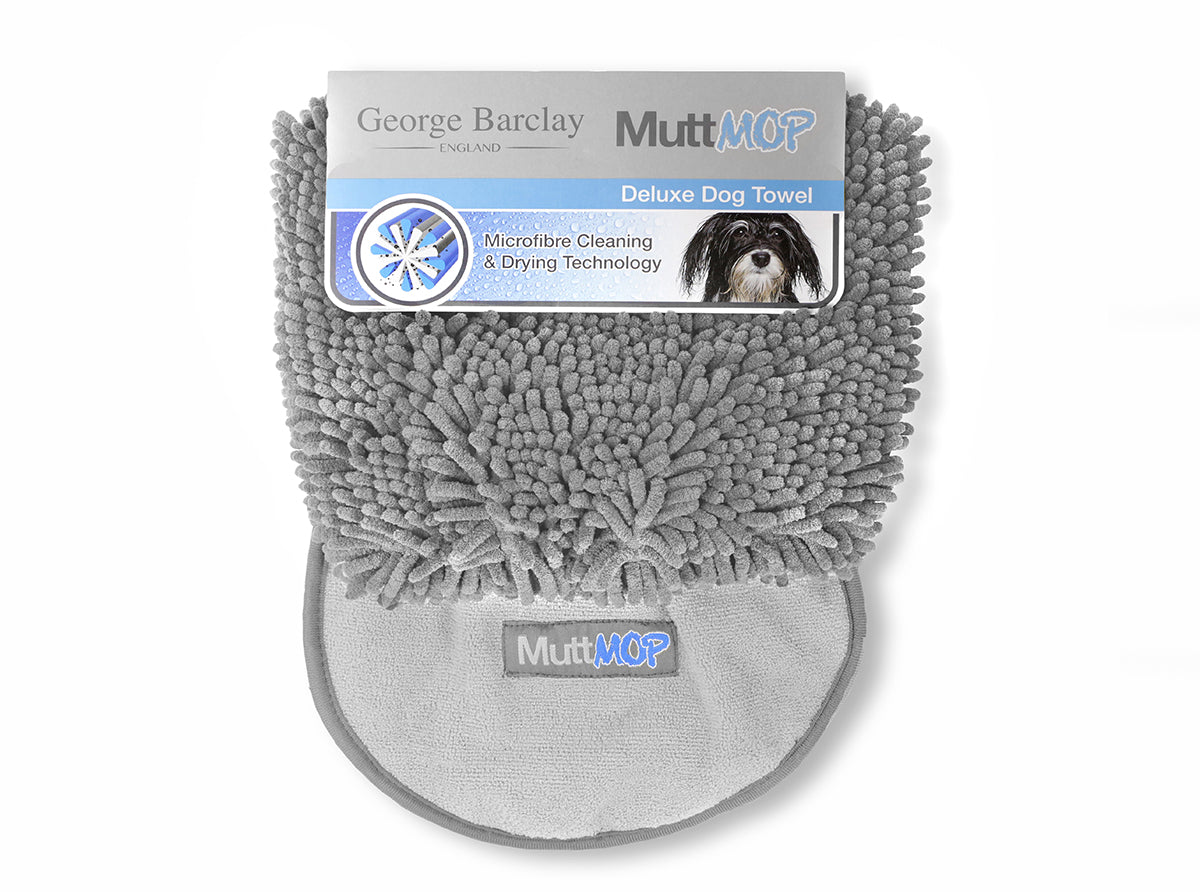 MuttMOP® Deluxe Dog Towel
The George Barclay, MuttMOP® Deluxe Dog Towel, removes dirt and water easily from your dog's coat. It's the ideal accessory for drying your dog after a woodland walk, forest trail or coastal stroll.
Produced using dense microfibre noodles, the MuttMOP® deluxe towel effortlessly removes dirt, locking it away within the material's fibres. The towel's microfibre technology means it will absorb more water and dry faster than a conventional towel.
Features:
Microfibre cleaning & drying technology
Plump 1500gsm, 25mm drying strands
Super absorbent
Machine washable
Size: 85 x 30cm
Technology
User Guide
To use, gently rub your dog's coat with the MuttMOP® deluxe towel to remove dirt and water. In particular, dirt can accumulate on your dog's paws and legs, ensure these areas are cleaned thoroughly to remove all excess dirt.
After use, machine wash at 30 degrees with a mild detergent. Do not use bleach, air dry.
Delivery
Delivery charges are calculated at the time of ordering, to obtain an exact delivery charge please add the item to your basket, then begin the checkout procedure. Because our beds are quite large the delivery cost is not only based upon weight, but also volume, with many items being subject to an oversized surcharge.
Below is a delivery cost guide to send an item to a UK mainland address:
Small accessories & bed covers
Box Bed (x-small, small, medium & large)
Mattress (medium, large & x-large)
*When ordering with a larger item, these will be packed in the same parcel, therefore the delivery charge will not apply.
Where possible we pack multiple items together to save on delivery charges. In some cases this is not possible, for example an order for two large sofa beds would have a total delivery cost of £39.98.
Delivery to the Channel Islands, Northern Ireland, the Republic of Ireland and Europe will incur additional delivery charges. Our deliveries are sent via DPD or Parcel Force, customers will receive delivery notifications from the courier delivering their order.
We aim to despatch all goods within 1-2 working days. However, during busy times this can increase to 3-4 working days, especially at Christmas. If you are in need of your goods quickly please let us know and we will try our very best to accommodate your request.
Please note: The days quoted above are our dispatch time, delivery time (usually 1-2 days) is in addition to the days quoted.
Returns
Require a different size? Changed your mind? No problem, if for any reason you're not happy with your purchase, simply email us at customerservice@georgebarclay.com or call us on +44(0)1722 437477, then return the items you'd like exchanged/refunded within 28 days of receipt of order.
The return postal/courier costs are the customer's responsibility. We recommend using a tracked service to return your item.
All goods returned must be unused. Please ensure any items being returned are in the same condition they were received. Once we have received and checked your returned items, a refund/exchange will be issued. We reserve the right to deduct a restocking fee where appropriate.
Unfortunately, the product reviews are not viewable on this device, please use a desktop computer, or a smart phone to view product reviews.
Thank you.